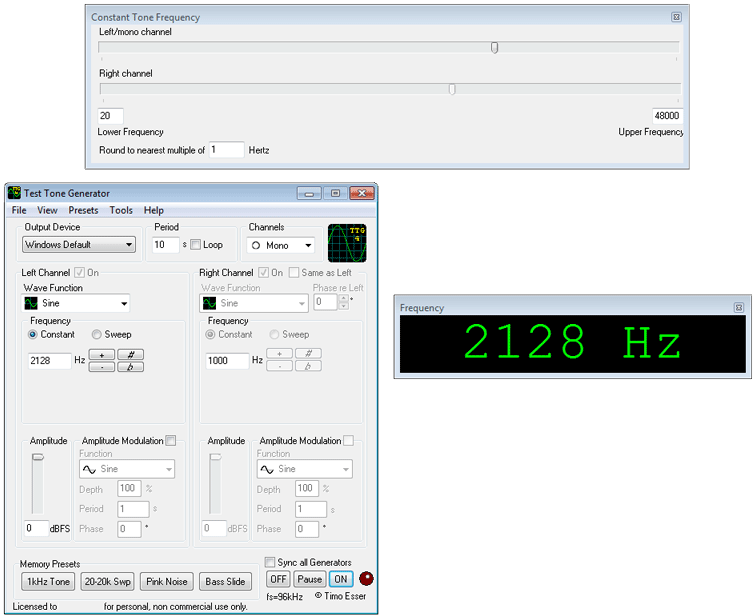 This Test Tone Generator (TTG) turns your PC into a scientific, professional function generator and enables you to
Test and tune loudspeakers, audio devices or complete sound systems
Teach others about sounds and frequencies
Create sound effects
It can generate a multitude of wave forms at any frequency your sound card can produce. Output is possible up to 24bit and 384kHz sampling rate and only limited by the capability of your sound hardware. Internally the signal is generated and processed in 64 bit floating point accuracy.
The use of the software is not limited to audio applications. Some of our customers...
use the software to check and mask tinnitus.
have built mosquito repellent devices.
are some of the biggest technology or media companies in the world. The computer you are using to read this is likely to contain components from some of our customers
It's unique frequency slider allows you to change the frequency in real time - just like an analogue function generator.
Signals created can be saved as a .WAV file in order to make a test tone CD.
You can run scripts of test tones and save memory pre-sets of fixed or sweep test signals to disk.
If you have multiple sound cards in your PC you can manually select the one you want to use for each instance of the program.
Selectable crest factors for pink noise and white noise signals are available. The crest factor is usually specified in power and durability tests for amplifiers and speakers.
Feel free to download a copy and test it for free without any obligations on your computer for 30 days. If you would like to keep it you can then order a license which will also give you unlimited access to updates and new versions.
Download
Select a server below to download the software. You can try it for free for 30 days.
Ordering
For online orders click here to go to the order page or click on the license types below.
There are three types of license: Personal for non-commercial personal use, professional for companies and commercial use and a commercial site license. The site license allows you to install and unlock as many copies as you like at one physical location of your company.
| | | | |
| --- | --- | --- | --- |
| Prices for | | | |
| Outside the European Union or VAT registered companies within the EU; no sales tax added | €15 | €30 | €250 |
| Inside Germany, incl. 19% sales tax: | €17.80 | €35.70 | €297.50 |
Payment options include the choice of PayPal, credit cards, debit cards, bank transfers, checks, cash, or purchase orders / orders on account, including billing in various currencies. We accept Visa, MasterCard, EuroCard, American Express, Discover, JCB, Diners Club, Switch and Solo. You can send checks to ShareIt's offices in the U.S. and Europe as well as wire transfer money to local bank accounts in your country.