This program generates signals to watch loudspeaker movement (or any other periodically vibrating device) with the help of a synchronised stroboscope. Traditionally these tests are done with dedicated hardware devices costing several thousand dollars or Euros. The only external hardware needed is a two channel amplifier and an LED flashlight.
A typical hardware configuration looks like this:
The computer sound card supplies the two signals to the two channel amplifier. The speaker signal (sine wave on the left channel) is amplified and sent to the loudspeaker under test.
The other signal is the light trigger pulse on the right channel. It is sent to the external trigger input of a stroboscope or it can also be amplified and sent directly to LEDs.
I use a standard LED flashlight (British English: torch) connected to the loudspeaker output of a normal audio amplifier as a stroboscope.
When switched on, the loudspeaker or vibrating object can be watched in slow motion like in these videos (link). Note that these effects are not just visible with cameras, but with the normal human eye.

This is how the loudspeaker is connected for the test: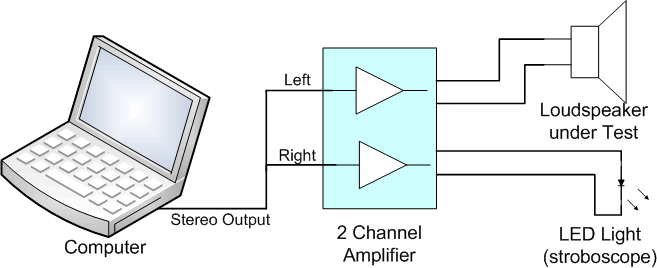 The two channel amplifier can be a normal audio hifi amplifier.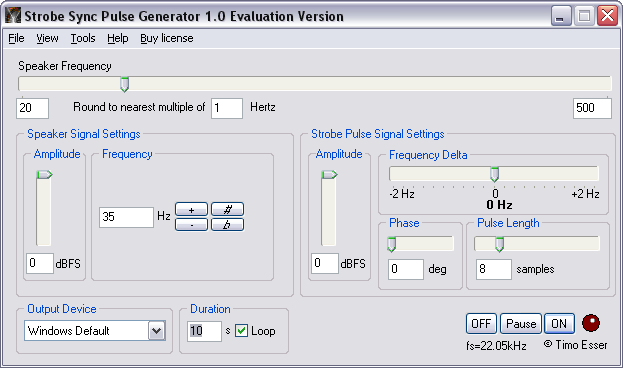 Download
Select a server below to download the software. You can try it for free for 30 days.
| | | |
| --- | --- | --- |
| Server | EXE file | ZIP file |
| Server 1 | | |
| Server 2 | | |
Ordering
For online orders click here to go to the order page

Prices for a single license:
Outside the European Union, no sales tax added: €25 (approx. US$35)
Inside the Germany, incl. 19% sales tax: €29.75
Once you have ordered online, a key will be sent to you immediately by email which will turn your trial copy into the full version. Registered users are eligible for unlimited upgrades to new versions when they are published.
Payment options include the choice of PayPal, credit cards, debit cards, bank transfers, checks, cash, or purchase orders / orders on account, including billing in various currencies.
We accept Visa, MasterCard, EuroCard, American Express, Discover, JCB, Diners Club, Switch and Solo.
You can send checks to ShareIt's offices in the U.S. and Europe as well as wire transfer money to local bank accounts in your country.